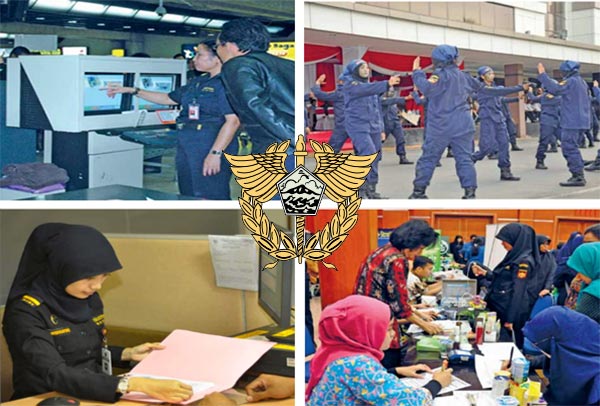 As has been discussed in the previous article, the Mother's Day is not merely about how a child expresses their gratitude to their mother, but it also about women's struggle to have a career.
An agency like Customs are often identified with field work, and therefore tend to open recruitment for male employee only. Women often work only in administrative positions, while strategic positions are dominated by men.
Along with the increase in the number of female employee in the Indonesian Customs and Excise, the opportunity to climb higher in rank also opens up. Women could also now sit in strategic positions, like Mira Puspita Dewi who became the Head of Operation Facilities (PSO) of Tanjung Priok from 2012 to 2014. Although some might think that it is unusual, Mira worked with full responsibility. "I was given the mandate, so I am sure I have the capabilities," she said
Mira told her experience when she was first promoted as the Head of Operation Facilities Center of Tanjung Priok. Her colleague said to her,"I wonder why the Director General appointed a woman to be the Head of Operation Facilities Center, as if he does not have any male candidate." Mira responded,"with all due respect Sir, I am carrying out my duty. This is a mandate (Minister Decree), so I have to do it."
She admitted that it was rather awkward at first considering that all of her subordinates were men. Although they were initially surprised to be commanded by a woman, they received me well and everything went well.
"Whenever I am assigned to a new place, I always begin by studying the roles and functions of the position I am assigned to. I refer to the minister regulation. I also study the organizational structure, from which I found that the duty of the Operation Facilities Center is difficult," she said.
Anita Iskandar became the first female customs attache when she was promoted as Echelon III as the customs and excise representative in Brussels, Belgium for approximately 4 years from 2009 to 2013.
Although she had to be away from 'home', Anita enjoyed it very much because it had been her wish to work abroad. As a representative, she does a lot of work by herself, except for when there are technical representatives from Indonesia delegated to attend a meeting or conference together with her.
"I did everything by myself, helped by one staff member that manage administrative affairs. If there is a representative from Jakarta, I must accompany them, but if there are none, I must be the representative myself. Even so, I must participate actively and sometimes stated my opinion."
Her English and French proficiency have been her assets. Although as the representative of Indonesian Customs and Excise, Anita must also have a general understanding of customs and excise affairs because there were some situations where there were no representatives from relevant techinical unit and she needed to deliver a technical presentation herself
Due to the geographical location, not only did she have to work independently, she also needed to live independently, although she did not mind. "If we enjoy doing something, we will find everything to be easy. That is why we have to always work enjoyably," she said while laughing.
Another unique story comes from the twin sisters who work at Indonesian Customs and Excise, Rita Rosmayanti and Nia Damayanti. The The twins at the Indonesian Customs and Excise The Twins Customs prevailing regulation forbid relatives or spouses to work at the same unit, so they have always been assigned to separate location.
They both joined Indonesian Customs and Excise in 2004. Both Rita and Nia felt that the career opportunity there was prospective because there was no discrimination. Nia is now working as a customs officer at the Direcorate of internal Compliance. Rita is now working at the Directorate of Audit.
The stories of these tough women show how in Indonesian Customs there is no discrimination and women have equal career opportunities to climb their rank to strategic positions.
Gender and Position Equality in DGCE
In Directorate General of Customs and Excise (DGCE) never differentiate the job for men and women. DGCE never implement gender tendency in the requirement of every position and rank, therefore men/women can work anywhere as long as they fulfill the requirement that has been determined.
Female officers in DGCE have equal role with male officers and in certain position, female officers actually give positive influence with their nature, for example in the matters of public relation, front line service, dong handling, internal compliance, and so on.
DGCE provides equal opportunity for all officers to develop their careers, including female officers. According to article 2 paragraph (1) of the Director General of Customs and Excise Regulation Number Per-31 / BC / 2014, official's rotation in DGCE is based on a merit system.
Merit system is the policy and management of State Civil Apparatus based on the qualification, competency, and performance regardless the background of politic, race, skin color, religion, origin, sex, marital status, age, or disability conditions according to legislation regarding the State Civil Apparatus. This system shows that both men and women have the same opportunity to develop their career.
Defining the Mother's Day in Indonesian Customs and Excise – Temporaktif