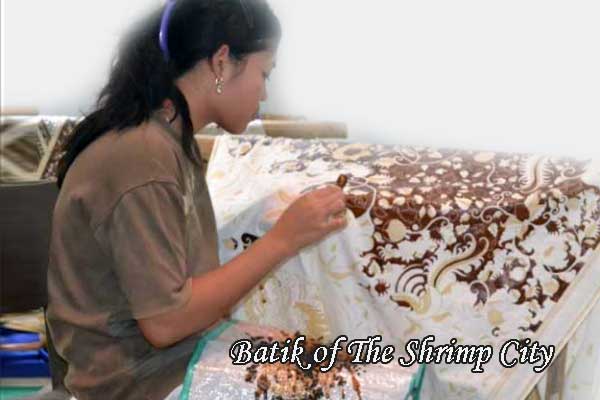 Trusmi Village is a famous tourist destination for shopping Batik Cirebon. The village is known as batik center of the 'Shrimp City'.
The rows of batik showroom enliven along the right and left side of Trusmi Village. Some of the show room are also serves as batik workshop. One of the famous Batik craftman is Katura. The batik's enterprenuer whose owned by his family thorugh a number of generations.
Katura has started as batik craftman since 11 years of age, now his age is about 61 years. When he was 22 years, he had opened his own business assisted by five workers, and to date the business continues to thrive by having 30 people staff. Katura has produced a number of design patterns that have been in production and marketed by batik entrepreneurs in Cirebon
Katura is known as famous batik craftman from Cirebon. He has received numerous awards, one is Upakarti award in 2009 that was presented by President Susilo Bambang Yudhoyono. The men who borned in 15th December, 1952 was received Upakarti for his services in the field of preservation of batik industry.
One way of preserving batik that he did was setting up a batik studio. Any person who wants to learn batik Cirebon can stop by and practicing in his studio, moreover the studio is open for tourists. "Many tourists come to study here. We always provide handkerchief sized cloth to teach them how to make a batik, eventhough in briefly, but this is our effort to preserve batik," said Katura
The orders coming not only from local but foreign as well. Recently, Katura received orders from Japan. Interestingly, all Katura batiks are batik tulis (Traditional painting) production. Imagine that to complete each piece of batik tulis, certain batik needs one year or more, the prices is quite expensive when compared with batik stamp. Such uniqueness is the target of batik collectors both domestic and abroad.
"The Characteristic of batik Cirebon is smooth thin lines instead of dot lines. Unfortunately, currently there are not many craftman that make a smooths lines, because it requires patience, perseverance, and thoroughness. While the batik entrepreneurs now more concerned to be quick and productive", he said ,while apointing to one of the fine lines of his collection.
According to Katura, in general the motives of Cirebon batik can be grouped into two categories, namely keratonan (palace) and pesisiran (coastal) motifs. "The nature ornamen is to show the typical of batik pesisiran, while the other motif, a palace ornamen used to show the two palaces of Cirebon, namely Kasepuhan and Kanoman," he said. The ivory color is also a typical color of batik Cirebon. Other typical of batik Cirebon that widely known among other are Mega Mendung, Singa Barong, and Wadasan or Batu Cadas.
source: Ciri Khas Batik Cirebon
Batik of The Shrimp City