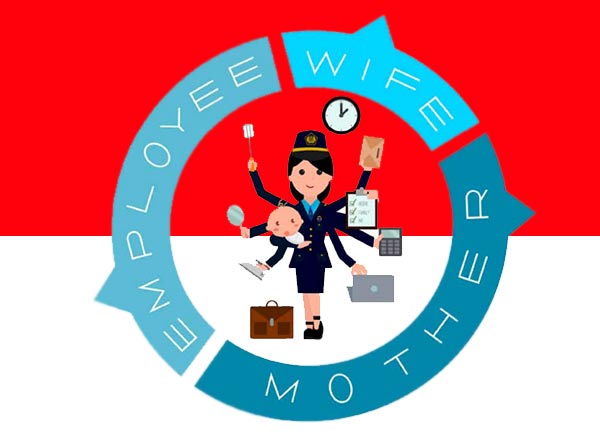 Indonesian celebrate 22 December as the National Mother's Day. In this day, people express their love as a child to their mother in a special way by giving special treatment to their mother, such as by presenting gifts, organizing surprise parties, or by conducting various activities, such as cooking contest and fashion contest.
However, the Mother's Day did not initially celebrate the mother-child relationship.
The Mother's Day initially commemorates the spirit and struggle of women of different backgrounds to unite and work together to improve the quality of the nation.
The Mother's Day was made official by President Soekarno with the issuance of the Presidential Decree Number 316 of 1959 on National Days that are not Holidays. The date itself was set to coincide with the Woman Congress of Indonesia.
Woman Congress was the manifestation of women's spirit of struggle that arose after the Youth Pledge (Sumpah Pemuda) on 28 October 1928 that triggered women to also fight for the independence. The first Woman Congress of Indonesia was then firstly conducted on 22 December 1928 in Yogyakarta. 7 years later, the second congress was conducted in Jakarta and successfully established the Agency of Woman Congress of Indonesia and determined the role of Indonesian women as the Mother of the nation that is responsible to foster nationalism. In 1938 in Bandung, the third congress set 22 December as the Mother's Day.
The agency has now changed its name to the Woman Congress of Indonesia (Kowani). While historically, the National Mother's Day symbolizes the long history of women's struggle in fighting for independence, fostering nationalism, and striving for prosperity, nowadays the celebration is becoming more and more about the mother and child relationship, not unlike the Mother's Day celebrated by western people.
Women in Bureaucracy
While women may not be as naturally physically powerful as men, women have ideas and thinking that should not be ignored. The involvement of women in politics and government is a blessing. Similar to their role at home, women also have the role to manage the nation. Theoretically, while nowadays there are more and more women working as civil servant, the majority of public offices still have men as their employee and they tend to dominate strategic positions in the offices.
Junita Budi Rahman, a lecturer at the University of Padjajaran who are also an observer of woman affairs, especially women working at the bureaucracy, agreed that there are now more women working and sit in a strategic position, although the road to such position is usually harder.
"Our government can be considered neutral in treating men and women. No formal norms that explicitly regulate that women shall not work, but there are countries that treat unequally, such as countries that regulate that women shall be paid less than men even when they are working in the same position. Although Indonesia also have distinct cultures, such as a married couple shall not work in the same office, or the wives shall work in the same office but in different location."
According to Junite, some discrimination remains in specific field and position, such as field worker. Men are generally picked to do such work, because women tend to refuse working outside of the office.
Gender equality is not a very accurate term because physically, men and women are not equal, and there are some social issues that are exclusive to women, such as living separately from their husband due to work, or taking care of their children. "So women should not seek gender equality but more like gender impartiality and how we can respect our differences," said Nita.
There are two women's influence in a public organization according to Nita, one is whether they adopt the prevailing masculine norms or they utilize their feminine traits, both of which could have either positive or negative effects. "It would be negative if their pretty appearance is the sole consideration regardless their capabilities. This could create a public perception that pretty women achieve their particular position only due to their physical appearance, even though they actually have the competence for such position."
Ancient perspective about women begins to fade. In the past, women are perceived to work only for the money. Nowadays, women work and build their career to strategic positions because they have the capabilities, as can be seen in Indonesia with its former female President and female Ministers.
Remembering the Spirit and Struggle of Women – Temporaktif