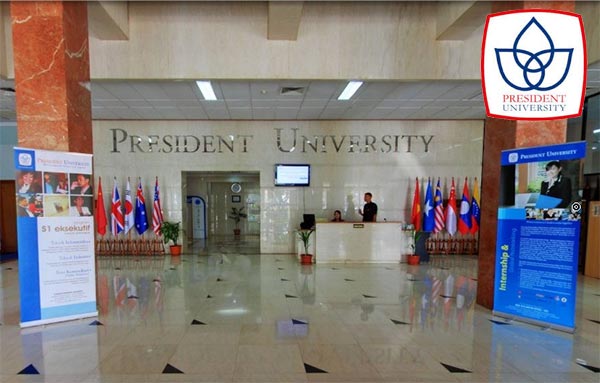 The President Director of PT Jababeka, Tbk, S. Darmono, recently paid a visit to his 'beloved son', President University, to deliver speeches to students, something that he does annually since the university was first set up several years ago.
Top leaders, managers and lecturers together with hundreds of students attended the seminar. The seminar was divided into two sections, with two different topics for each batch of students. The first section was dedicated to those who just became President University students.
President University: Think Big, Start Small, Move Fast
As they have just started a whole new university life, Pak Darmono had prepared a lecture "Think Big, Start Small, Move Fast" that they would not be able to find anywhere outside President University: "Learning to Win".
In his speech, Pak Darmono emphasized that President University is the land of opportunities for students to become to- morrow's leaders. However, he added, the final result is up to them
"Learning to be a winner means that students need to have the will to learn and to achieve," he pointed out.
The first thing that students have to achieve is knowledge, which can be obtained from books, lectures or other sources.
He told students stories on "The art of killing dragons" and "Hands follow the mind" to open their minds on the virtues of learning and achieving. "Learning always goes together with doing," he said.
Furthermore, students also have to build their own individual characters to become leaders with K.A.S.H., which stands for Knowledge, Attitude, Skills, Habits.
The second session was about "How to a Get Better Income", which was for senior students who plan to under go internships and are about to graduate.
Pak Darmono reminded them that many universities in Indonesia produce graduates that are not ready to work. In contrast, President University is committed to provide students with jobs once they have graduated. However, they need to be well-prepared for that.
To be prepared, he emphasized, "is to keep constantly in mind the issue of "jobs" after graduation".
Being well-prepared is not just about learning from books and following classes in one's major but also to reach out to other fields.
"Do not wait until you are asked to do new things", Pak Darmono said.
He also expressed his concern about Indonesian students who seemed not as eager as their Chinese counterparts who work while studying.
He encouraged students to work and study at the same time in order to gain experience. "And while at work, students should like and love their jobs so that they can learn more," he said.
On entrepreneurs, Pak Darmono stated "that they are not born, but made"
He shared his own experiences and points of view on how to be a successful entrepreneur, saying that "Think Big, Move Fast" is the motto of success. According to Pak Darmono, an entrepreneur is a professional who is able to recognize opportunities to create new things and implement it.
An entrepreneur is also meant to be a lady/gentleman and a superman.
"The answer to the question, "How to Be a Successful Entrepreneur", could be found right here in this university, as students do not just live and study in an academic environment, but also right in the heart of the industrial zone," he said.
The seminar did really open students' minds and inspired them to start thinking and choosing the right way to become tomorrow's leaders.
President University At a Glance
President University is a 100% English-speaking higher education institution in Indonesia, which was established to become a research and development center in the region and to set a new benchmark in Indonesian higher education. Specifically, the university was formed to create an institution of learning, which would prepare the future leaders of industry and society by giving them the skills and experiences necessary to excel upon graduation.
According to one of the founders of President University and also the Chairman of Jababeka Group, Mr. Setyono Djuandi Darmono, President University was built for two reasons: to become a research and development center and to set a new benchmark in Indonesian higher education. The founders of President University laid down the foundation and groundwork to ensure that President University will develop into a great institution of learning where students from all parts of the world can acquire knowledge and develop into useful yet responsible citizens and future leaders.
President University is strategically located in Jababeka Education Park in Kota Jababeka, just 45-minute drive to the east of Jakarta, Indonesia. The Jababeka Industrial Estate is one of the largest and integrated industrial areas in South East Asia and a home of 1,700 multinational companies from 30 countries, i.e. USA, CANADA, Germany, France, UK, the Netherlands, China, Japan, Korea, Taiwan, Singapore, Malaysia, and Australia, surrounds it. The companies, amongst the others are L'Oreal, Unilever, Samsung, Mattel, ICI Paint, and Kraft, can be leveraged as a "living laboratory" for our students and faculty members to develop practical solutions for real-life companies, and also serve as a limitless pool of internship/on-the-job training opportunities for the students.
President University : Think Big, Start Small, Move Fast – Temporaktif