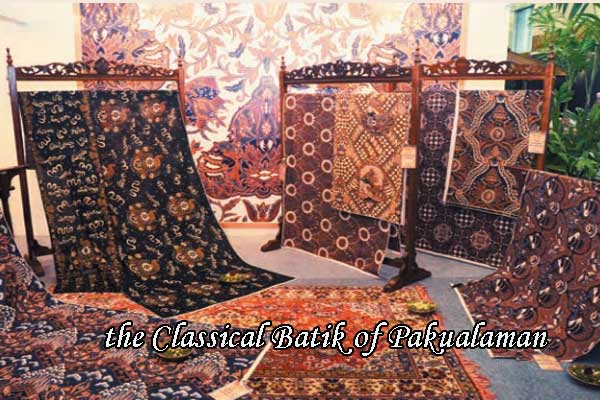 In the ancient kingdom era, Yogyakarta, initially known as the capital kingdom of Mataram, historically has been recognized as the origin of the emergence of batik art in the country.
Therefore, it is not surprising that Yogyakarta batik industry has been growing and developing well, and becoming the benchmark of batik industry in other regions.
In fact, the development of batik industry in Yogyakarta has been mainly influenced by arts and culture of Yogyakarta palace. Whereas there is also Puro Pakualaman located in the Duchy of Pakualaman which has also kept so many historical heritages such as high-value manuscripts of arts and literatures that have been barely known by Indonesian people and others. Some of those manuscripts of arts and literatures inherited by Pakualaman Duchy have been neatly arranged in Pakualaman Library.
The Puro Pakualaman, now led by Paku Alam IX who engage with community participation, in order to give more benefits to the community. It was motivated B. R. Ay. Atika Suryodilogo, daughter in law of Paku Alam IX, to introduce various artworks of Pakualaman heritages to the public through the media of batik arts.
Therefore, since four years ago Atika has started to transcribe, create and develop various Pakualaman batik motives derived from the heritage of the manuscripts of Pakualaman writers. Surprisingly, her effort has been widely appreciated by many parties, such as the general public, batik lovers and collectors, academics, experts and researchers, government officials, even from Paku Alam IX himself.
With the help of four batik artisans, she has now successfully created a number of beautiful Pakualaman batiks characterized by classic shades and meaningful philosophy. To produce a piece of hand-made Pakualaman batik cloth, it takes about 3-6 months. The Pakualaman batik has been introduced to the public through several batik exhibitions in this country
Some Pakualaman batik motives artworks created by Atika are Wijaya Kusumajana motif, Sestra Lukita motif, Asthabrata series motives (Batara Indra, Yama Batara, Batara Surya, Candra Batara, Batara Bayu, Vishnu Batara, Batara Brama, Batara Baruna), and also Sari Uneng Makara motif.
Atika said that the initial triger to revive and develop Pakualaman batik was due to so many questions from the public posed to her about Pakualaman batik. Hence, she finally decided to reproduce the ancient batiks inherited by Puro Pakualaman and ancient batik motives derived from the manuscripts of Pakualaman Duchy heritages. The goal is of course, to preserve and also develop the ancient batik motives inherited by the royal palace. The first step done by Atika was to collect all the ancient manuscripts and then to be transcribed into the batik artwork.
Moreover, she has a plan to further dedicate herself into the batik business next year by commercializing Pakualaman batik. It should be done in the hope Pakualaman batik of Yogyakarta can be hosted in its own city as well as to preserve and develop Pakualaman batik.
"I want to be batik entrepreneur by still maintaining and upholding the original patern. Thus the batik we are going to produce is a clasical hand-made batik enriched with the philosophical meanings as well as the beautiful and interesting colors in it. I expects Pakualaman batik of Yogyakarta will be widely known not only in Indonesia, but also around the world, "explained Atika.
source: Batik Pakualaman Yogyakarta