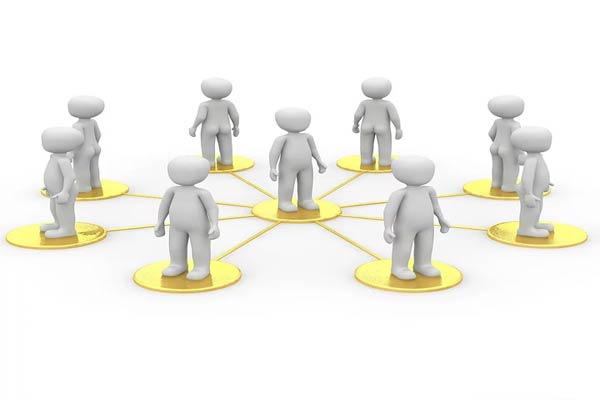 If you're a business owner who feels confined to a bubble due to your company's small size, limited resources, or young age, you should consider connecting with other professionals in your niche. In order to successfully grow your business, it's important to branch out and meet other professionals.
This doesn't necessarily mean that you're supposed to sell yourself and your business. Networking isn't about pitching your business to potential shoppers. You'll likely be unsuccessful if you attempt to sell your products or services to other business owners in your own space. Your goal is to build a community with those in your field, or in one that complements your own.
For example, if you sell honey, you may want to collaborate with beekeepers, or with bakers who sell homemade breads and desserts. Connecting with other local business owners can be a great way to meet those facing similar challenges, who might become potential business partners — or even mentors — down the line. It all starts with offering a helping hand.
How can I help you?
Successful networking for small businesses begins with discovering ways that you can help others, instead of focusing exclusively on your own needs. According to an interview with networking expert Mark Sackett, at Entrepreneur, people should work on shifting the conversation from "the get to the give." "Instead of trying to sell yourself or your business, work on building relationships. Listen carefully and engage with the person you are interacting with," says Sackett.
As a business owner, you likely have some useful knowledge to share with your peers. This is the first step in building relationships with fellow business owners, which could potentially help your business in the long run. For example, if you own a brick-and-mortar shop and you meet someone who wants to open a store in your town, you might want to share tips for navigating the process of getting a business license. Or if you discovered a great Point of Sale (POS) system, you can suggest it to another business owner to help them avoid the same hassles that you endured while trying to choose the best option.
Alternatively, consider how you and owners of complementary businesses can mutually help each other by marketing each other's businesses. If you're a general contractor and you connect with someone who offers construction insurance services, you can agree to recommend the others' services to shoppers to help grow both of your businesses. Or if you specialize in product photography, you could partner with someone who helps small business owners write compelling sales copy.
When building your business relationships, don't be afraid to ask for small favors. If you're a greeting card designer and you meet someone who has a connection to a local printer, you could try asking for an introduction. As behavior scientist Jon Levy shared in a Fortune article about science-based networking, asking for a small favor helps build trust, and makes others more likely to invest in your relationship.
Go forth and connect
How do you begin the process of meeting new people and building connections? You can start by finding local networking events to attend. Check out business organizations such as your town's Chamber of Commerce and review their events calendar. There are also various websites that list in-person networking events, from broad organizations for small business owners, to niche groups for those in specific industries like fashion or catering. Additionally, USA Today offers multiple resources for small business leaders to use for networking purposes.
If you're ready to invest a little more time and money into networking, consider attending a trade show. Trade shows are exhibitions for companies across specific industries. You can find trade shows for just about anything: handmade products, packing materials, fair-trade coffee, and more. You don't have to be registered as a vendor or purchase a booth to get the most out of trade shows. You can use these events as opportunities to meet people who are exhibiting, as well as other attendees. Trade shows present perfect opportunities to meet a large number of people whose businesses will complement your own.
Not all networking has to happen face-to-face. There are plenty of online groups that offer networking opportunities for small businesses, both locally and globally. You can find plenty of networking groups through your social channels.
For example, you can type "makers groups" into the search bar and find groups where members share information about the best deals on mailers, or groups for virtual assistants to discuss the best platforms for managing calendars and contracts. A Facebook marketing tool called PostPlanner reveals how Facebook groups are especially great tools for networking by building relationships and being helpful.
No matter how you approach networking, remember that your ultimate goal is to foster a community of support around your business. As you build out relationships with other business professionals, you might find that your connections begin recommending your products and services to their contacts and beyond.