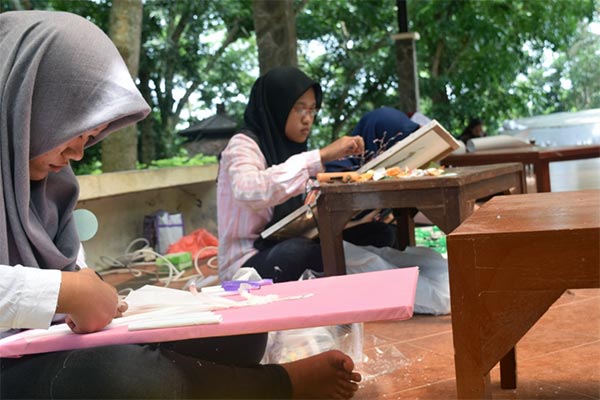 In the developing knowledge there was a Home Economics, now is known as Home Economics Education. The Knowledge related to home and family has been noticed by Mrs. Richard in New York since 1899, she begun by holding a professional conference on home economics.
Home Economics was simple and comprehensive that covered "… sanitation, cookery, and kindred household arts and instruction in the art or science of living from kindergarten to college" (Frances J. Parker, 1990 : 25).
Since Home Economics as knowledge and conference in 1899, this conference associated to American Home Economics Association (AHEA) which focuses on that knowledge in 1908. This association elected Elen H. Richard as the first president of AHEA.
Home Economics Education as a Knowledge and Program
From observing the philosophies and the goals of AHEA, Home Economics could be defined : (Frances, J. Parker, 1990 : 15) Home Economics as a field of knowledge and service primarily concerned with strengthening family life … are engaged in :
educating the individual for family living and improving the services and good used by families;
conducting research to discover the changing needs of individuals and families and the means of satisfying these needs;
and in furthering community, national, and world conditions favorable to family living.
The quotation stated that home economics as knowledge and it service primarily to strengthen the family life. Overcoming Poverty By Home Economics Education. Serve family members, the family must be powerful in economic aspect and material, powerful defined as having positive human relation. Thus, we need education for every individual serve, strengthen family life, and meet the family needs, because the family living will influence the community, nation, and world conditions.
When we notice the aspects in family living or Home Economics which concerned on food, clothing, handicraft, family relationship and children development, we agree with Francis J. Parker (1990 : 16) who said several things in Home Economics such as :
family relationships and child development
consumption and other economic aspects of personal and family living
nutritional needs in the selection, preservation, preparation, and use of foods
design, selection, construction and care of clothing and its psychological and social significance
textiles for clothing and for the home
housing for the family, and equipment and furnishings for the household
art as an integral part of everyday life
management in the use of resources so that values and goals of the individual and family or of society may be attained
All the field that covered in Home Economics, primarily food, clothing, handicraft can be family economic activities. Home Economics Education which developed as programs of home economics construction are expected could help individuals to increase the economy and make a better family living. This statement is supported by Martha Lee Blankenship and Barbara Dommert Moerchen (1979 : 17) stated "Home Economics bring together knowledge from many fields to help individuals and families. There is a need for grater participation by home economist in the formation or public policy".
Home Economics Education might be applied at University or high education, school, and society. At the university this knowledge can be developed in the implementation of curriculum in Home Economics Education program. Lecturers in the university can develop it into public service, such as training or guidance related to knowledge and skills of family economic activity. The training like pastry, catering, clothing (baby fashion, kid, man or woman clothes), handicraft from any material, can be enterprise for overcoming poverty.
The application of Home Economics could be family economy program and its training. In Indonesia there is a program which known as 10 programs of PKK or society development program. The collaboration of public service in university and the program of government may create a program and the have to support all efforts in overcoming poverty. These programs are family economy education project, building market place, and access to financial support or banking.
Problem Solving of Poverty by Home Economics Education
Home Economics Education can motivate the growth of family economy because it covers food, clothing, and handicraft. Fields of knowledge and skills could be educational program and training overcome poverty. Field of knowledge and skills in food, clothing, and handicraft are assumed as a familiar field related to family and society, even though in poor society. Government institutions, private institutions, non-government organization, or any one who has knowledge and skills in food, clothing, and handicraft is expected can help government in overcoming poverty
In many countries, Home Economics has been a program, department, faculty, more over, university. The application of Home Economics might be realized by public service, formally by vocational school and all school as a choice able program of the curriculum in each level.
This knowledge can be realized by non formal education also. It may be training, guidance, course in food preparation, clothing, and handicraft which motivate people to be entrepreneur. It might be held by certain family which has potential in building centre of education, training, and guidance for family in poor society as a solution of overcoming poverty.
Home Economics Education – Temporaktif