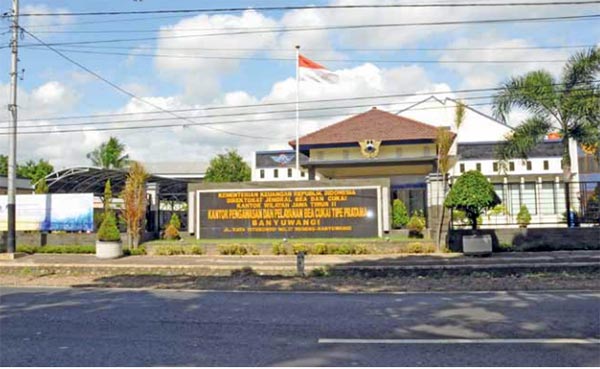 Change to achieve the better is something that is currently being promoted by the government to all the offices of community service.
In 2016 Small Customs and Excise Service Office of Banyuwangi (Customs Office of Banyuwangi) won the best pilot small office followed by Customs Office of Pemantang Siantar and Customs Office of Purwokerto.
According to the head of Customs Office of Banyuwangi, Beny Lilipaly, it's been the second time his office, it was in 2014 but it ended up in the big six. In 2016, Secretariat of Directorate General of Customs and Excise appointed Customs Office of Banyuwangi again to participate in the Pilot Office Contest and gave 7 months to the office to prepare.
Still according to him, all officers were gathered to determine the direction of change he wanted to make. "Currently, the most important thing in service is the speed in using application system; therefore we need to equip the facilities and infrastructure, such as service room, stationary, medical room including clean environment, and parking lot" he said.
One thing that became the innovation of Customs Office of Banyuwangi was the open consultation room so that the stakeholders may convey their complaints and difficulties freely and transparent. Another improvement was filing management in order to ease officers to find the files and archives.
Customs Office of Banyuwangi also provided pick-up service in customs and excise related-matters. Excisable goods manufacturer can submit their monthly report through e-mail or officers come to that manufacture if the location is far from customs office to get the monthly report.
It is also done by control and internal compliance units to check the validity of the report to make sure there is no collusion committed by officers. In customs service, such as related with BC 1.1 document, stakeholders may preliminary inform the arrival schedule of vessel therefore if the vessel comes in the middle of the night, customs officer can handle the unloading activity.
To won the contest, Customs Office of Banyuwangi received many input from Director General directly and Director of Regional Customs and Excise of East Java II. Direction from Director General focused on how to create excellence service, improving integrity and innovation in service.
While the direction from Director of Regional Customs and Excise of East Java II focused on the unity of human resources as the main Beny Lilipaly Kepala KPPBC Tipe Pratama Banyuwangi With this predicate, officers should not be satisfied and should continue to improve it. factor in office development and improving integrity. Eventually, the rank of Customs Office of Banyuwangi improved to the 5th position with 4,7 score under the Medium Customs and Excise Office of Kediri.
Besides the service innovation towards stakeholders, Customs Office of Banyuwangi also provides the internal service innovation that is stationary supply. Usually, stationary supply is stocked in warehouse, but in here, it is stocked in a special room so that all officers know whether the stationary they need is available or not.
Hard work and strong desire to make change is the key of success of Customs Office of Banyuwangi to achieve the best service office by complementing the excess of officers and assist the lack of officers, to realize their mission to get the best service office predicate.
"Indeed, to maintain this predicate is much more difficult than to achieve it, for that we have created a system that can continuously apply. Likewise with the SOP that will be constantly updated. Maybe it will be done KPPBC Banyuwangi to maintain the predicate as the best services of this office."
With this winning, all officers have responsibility to improve and develop their skills by joining the trainings, especially in 2017 where Customs Office of Banyuwangi will be upragaded become Medium Customs and Excise Service Office. One thing that needs to be appreciated of Customs Office of Banyuwangi is the bravery to undergo internal and external changes so that all people feel satisfy
If becoming the best pilot office is a first step to provide more excellence service certainly all Customs Office in Indonesia should be the pilot office, so that what is expected by the government to change the moral and mental can be realized, and DGCE will get better and better with its service and control.
Excellence Service is not Solely for Pilot Office – Temporaktif