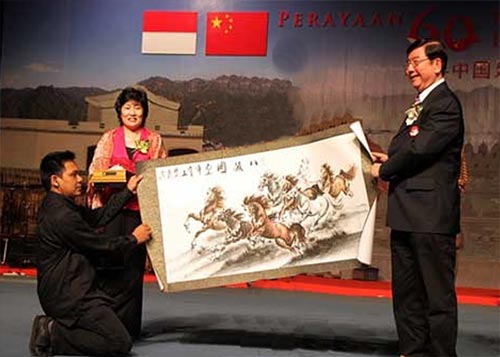 China's Ambassador to Indonesia, H.E. Mrs. Zhang Qiyue – has said Indonesia has a golden opportunity to develop and that it is set to surge ahead in the coming years. "I always say to visitors from China that Indonesia is a very strong country in this part of the world"
Meanwhile, Morgan Stanley said Indonesia is ready to become the fifth BRIC country, and predicted that as of 2011 Indonesia will grow by 7% annually.
BRIC stands for Brazil, Russia, India and China and is a term used to refer to new industrial powerhouses.
China's Ambassador to Indonesia, H.E. Mrs. Zhang Qiyue has talked about Indonesia
The Chinese ambassador added that Indonesia today accounts for 45% of the population in Southeast Asia and is the strongest economy in the area, accounting for about 41% of its total economic strength.
"With more than 10 years of reform, we should be very proud that Indonesia is developing steadily. When the world was hit by the international financial crisis, Indonesia was still able to achieve a positive growth of 4.5%, behind China and India," she said
She added that "Indonesia has every reason to be a strong developing country in this region, in fact in the world, due to its large population, which is number four in the world."
She also noted that education is taken very seriously in this country as there are many excellent facilities such as President University.
She added that Indonesia also has an increasingly growing role not only in South- east Asia but also in the world as Indonesia is a full member of the G20, the group that deals with important issues such as the international financial crisis and climate change.
On China-Indonesia relations, the ambassador said it offers many golden opportunities due to the very long years of relationship between the two countries
"In recent years, especially after 2005 when we signed the declaration on the establishment of a strategic partnership, our relationship has started to soar very high."
She noted that bilateral trade between the two countries reached US$31.5 billion last year, a record high that is set to reach new heights due to the vast potentials of the economies of both countries.
Last year, about 2,000 Chinese tourists came to Indonesia but the ambassador hoped to boost the figure through joint efforts.
"There are a lot of good places to see in this country such as Bali, Jakarta, Surabaya, Medan, Manado and many others," she said.
Meanwhile, both countries are set to mark the 60th anniversary of bilateral relations next year.
China's Ambassador to Indonesia, H.E. Mrs. Zhang Qiyue:  Indonesia is a Very Strong Country – Temporaktif